Horus (ホルス) and Seti (セティ) are two characters from the game Seme COM Dungeon: Drururuaga named after the Egyptian Horus and Seti.
Horus is Gilsh's best friend. He uses a sword as weapon and can act twice in one turn. He joins Gilsh when he arrives in Babylim.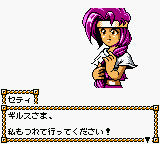 Seti is Horus' sister. She uses a lance and can counter attacks. When Gilsh and Horus meet with her, she is acting strange and attacks Gilsh. After her defeat she returns to normal and joins the group.