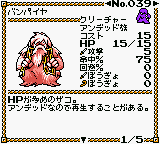 Creature (クリーチャー) cards are a type of Spell Card from the game Seme COM Dungeon: Drururuaga. They are creatures that can be summoned by the player and bosses to protect their dungeon or assist in battles. They are divided in 12 sub-types: Knight, Magician, Priest, Human, Hero, Demi-human, Undead, Slime, Magical Creature, Animal, Dragon and Demon.
Each card has a cost to be added in the deck and summoned into battle. In the beginning of every battle the player can place up to two creatures in each room from his dungeon. The player can have up to eight creatures in one room.
(Under construction)
Some cards have special features, for example:
Flight (ひこう) - Flying creatures can avoid hazards on the ground such as lava and avoid attacks with ground attribute.
Counter (カウンター) - The creature counter-attacks when damaged.
Disappear (すがたをけす) - The creature isn't visible in the map, only appearing when attacking. Those creatures can be located by some means, like attempting to move to their position or using Candles. Invisible allies can be seen by holding the B button.
Acts Twice (2回こうどう) - The creature can act twice, being able to move two squares or attack twice in one turn.
1/2 Action (1/2回こうどう) - The creature takes two turns to act.
Regeneration (再生) - If defeated, the creature has 50% chance to revive after 12 turns. Present in all cards from the Undead family.
Weak to __ Attacks (__攻撃 にがて) - The creature is vulnerable to a specific attribute (Flame, Ice, Light or Dark), receiving double damage when attacked with its weakness.
Wall Destruction (かべはかい) - The creature's attack can destroy breakable walls.
List of Creature Cards
Edit
No.
001
Name
Sword Knight (ソードナイト)
Type
Creature (Knight Family)
Cost
15
HP
10
Attack
5
Hit%
95
Evasion%
0
Defense
4
Defense
0
Rarity
Attack
Slash (きりつける)
Attacks 1 square ahead. No attribute.
Other
characteristics
None
No.
002
Name
Axe Knight (アックスナイト)
Type
Creature (Knight Family)
Cost
15
HP
11
Attack
8
Hit%
70
Evasion%
0
Defense
4
Defense
0
Rarity
Attack
Strike (たたきつける)
Attacks 1 square ahead. No attribute.
Other
characteristics
None
No.
003
Name
Lance Knight (ランスナイト)
Type
Creature (Knight Family)
Cost
20
HP
9
Attack
4
Hit%
95
Evasion%
0
Defense
4
Defense
0
Rarity
Attack
Pierce (つらぬく)
Attacks two squares ahead. No attribute.
Other
characteristics
None
No.
004
Name
Heavy Knight (へヴィナイト)
Type
Creature (Knight Family)
Cost
20
HP
15
Attack
10
Hit%
95
Evasion%
0
Defense
6
Defense
0
Rarity
Attack
Slash (きりつける)
Attacks 1 square ahead. No attribute.
Other
characteristics
1/2 Action
No.
005
Name
Mirror Knight (ミラーナイト)
Type
Creature (Knight Family)
Cost
25
HP
20
Attack
7
Hit%
95
Evasion%
0
Defense
0
Defense
0
Rarity
Attack
Mirror Sword (ミラーソード)
Imitates the abilities of the enemy's boss. No attribute.
Other
characteristics
Can't Equip Weapons
Can't Equip Protectors
Can't Equip Accessories
No.
006
Name
Lizard Man (リザードマン)
Type
Creature (Knight Family)
Cost
20
HP
15
Attack
3
Hit%
95
Evasion%
0
Defense
5
Defense
0
Rarity
Attack
Slash (きりつける)
Attacks 1 square ahead. No attribute.
Other
characteristics
None
No.
007
Name
Mage (メイジ)
Type
Creature (Magician Family)
Cost
15
HP
5
Attack
3
Hit%
100
Evasion%
0
Defense
0
Defense
0
Rarity
Attack
White Spell (ホワイトスペル)
Attacks with a spell that hits the target in the line ahead. No attribute.
Other
characteristics
Can't Equip Weapons
No.
008
Name
Fire Mage (ファイヤメイジ)
Type
Creature (Magician Family)
Cost
20
HP
5
Attack
1
Hit%
100
Evasion%
0
Defense
0
Defense
0
Rarity
Attack
Fire Spell (ファイヤスペル)
Attacks with a spell that hits the target in the line ahead, and leaves a Fire Element in the square hit. Flame attribute.
Other
characteristics
Can't Equip Weapons
No.
009
Name
Break Mage (ブレイクメイジ)
Type
Creature (Magician Family)
Cost
20
HP
5
Attack
3
Hit%
100
Evasion%
0
Defense
0
Defense
0
Rarity
Attack
Break Spell (ブレイクスペル)
Attacks with a spell that hits the target in the line ahead and can destroy breakable walls. No attribute.
Other
characteristics
Can't Equip Weapons, Wall Destruction
No.
010
Name
Through Mage (スルーメイジ)
Type
Creature (Magician Family)
Cost
25
HP
5
Attack
3
Hit%
100
Evasion%
0
Defense
0
Defense
0
Rarity
Attack
Through Spell (スルースペル)
Attacks with a spell that moves through walls and hits the target in the line ahead. No attribute.
Other
characteristics
Can't Equip Weapons
No.
011
Name
Priest (プリースト)
Type
Creature (Priest Family)
Cost
15
HP
5
Attack
5
Hit%
100
Evasion%
0
Defense
0
Defense
3
Rarity
Attack
Heal Spell (ヒールスペル)
Heals an injured ally 1 square ahead. Light attribute.
Other
characteristics
Can't Equip Weapons, Weak to Dark Attacks
No.
012
Name
High Priest (ハイプリースト)
Type
Creature (Priest Family)
Cost
25
HP
5
Attack
5
Hit%
100
Evasion%
0
Defense
0
Defense
3
Rarity
Attack
Heal Plus (ヒールプラス)
Heals an injured ally in the same room. Light attribute.
Other
characteristics
Can't Equip Weapons, Weak to Dark Attacks
No.
013
Name
Monk (モンク)
Type
Creature (Priest Family)
Cost
15
HP
5
Attack
8
Hit%
95
Evasion%
20
Defense
0
Defense
3
Rarity
Attack
Temple Arts (テンプルアーツ)

Other
characteristics
Can't Equip Weapons, Can't Equip Protectors
Can't Equip Accessories, Weak to Dark Attacks
No.
014
Name
Exorcist (エクソシスト)
Type
Creature (Priest Family)
Cost
20
HP
5
Attack
3
Hit%
100
Evasion%
0
Defense
0
Defense
3
Rarity
Attack
Exorcism (除霊)
Attacks with a spell that hits the target in the line ahead. Light and Exorcism attributes.
Other
characteristics
Can't Equip Weapons, Weak to Dark Attacks
No.
015
Name
Kalia (カリア)
Type
Creature (Priest Family)
Cost
30
HP
10
Attack
5
Hit%
100
Evasion%
30
Defense
0
Defense
3
Rarity
Attack
Heal Plus (ヒールプラス)
Heals an injured ally in the same room. Light attribute.
Other
characteristics
Can't Equip Weapons, Weak to Dark Attacks
Trade and Bet Restriction (This card can't be traded by another or wagered in Vs. Mode.)
No.
016
Name
Archer (アーチャー)
Type
Creature (Human Family)
Cost
15
HP
8
Attack
5
Hit%
70
Evasion%
0
Defense
0
Defense
0
Rarity
Attack
Aim and Shoot (ねらいうつ)

Other
characteristics
Can't Equip Weapons
No.
017
Name
Storm Soldier (ストームソルジャー)
Type
Creature (Human Family)
Cost
25
HP
12
Attack
8
Hit%
95
Evasion%
0
Defense
0
Defense
0
Rarity
Attack
(きりはらう)

Other
characteristics
Counter
No.
018
Name
Negotiator (ネゴシエイター)
Type
Creature (Human Family)
Cost
20
HP
8
Attack
1
Hit%
70
Evasion%
0
Defense
0
Defense
0
Rarity
Attack
Persuasion (せっとく)
Attacks 1 square ahead. If the target is from the Knight, Magician, Priest, Human, Hero or Demi-human family, (except for the dungeon's boss) it may become an ally. No attribute.
Other
characteristics
None
No.
019
Name
Monster Tamer (モンスターテイマー)
Type
Creature (Human Family)
Cost
20
HP
11
Attack
1
Hit%
70
Evasion%
0
Defense
0
Defense
0
Rarity
Attack
Training (ちょうきょう)
Attacks 1 square ahead. If the target is from the Slime, Magical Being, Animal or Dragon family, (except for the dungeon's boss) it may become an ally. No attribute.
Other
characteristics
None
No.
020
Name
Rogue (ローグ)
Type
Creature (Human Family)
Cost
20
HP
8
Attack
2
Hit%
50
Evasion%
0
Defense
0
Defense
0
Rarity
Attack
Steal (ぬすむ)

Other
characteristics
Acts Twice
No.
021
Name
Necromancer (ネクロマンサー)
Type
Creature (Human Family)
Cost
30
HP
10
Attack
3
Hit%
70
Evasion%
0
Defense
0
Defense
0
Rarity
Attack
Other
characteristics
No.
022
Name
Amazoness (アマゾネス)
Type
Creature (Human Family)
Cost
15
HP
6
Attack
3
Hit%
90
Evasion%
20
Defense
0
Defense
0
Rarity
Attack
Aim and Shoot (ねらいうつ)

Other
characteristics
No.
023
Name
Sword Master (ソードマスター)
Type
Creature (Human Family)
Cost
30
HP
10
Attack
4
Hit%
95
Evasion%
30
Defense
0
Defense
0
Rarity
Attack
(にとうりゅう)

Other
characteristics
Acts Twice
Counter
No.
024
Name
Gilgamesh (ギルガメス)
Type
Creature (Hero Family)
Cost
45
HP
15
Attack
5
Hit%
95
Evasion%
0
Defense
8
Defense
2
Rarity
Attack
Other
characteristics
Acts Twice, Weak to Dark Attacks
No.
025
Name
Ki (カイ)
Type
Creature (Hero Family)
Cost
30
HP
5
Attack
5
Hit%
100
Evasion%
30
Defense
0
Defense
3
Rarity
Attack
Recover (リカバー)
Heals an injured ally 1 square ahead. Light attribute.
Other
characteristics
Can't Equip Weapons, Weak to Dark Attacks
No.
026
Name
"Barusutsūka" (バルスツーカ)
Type
Creature (Hero Family)
Cost
25
HP
15
Attack
5
Hit%
95
Evasion%
0
Defense
0
Defense
0
Rarity
Attack
Other
characteristics
No.
027
Name
Isis (イシス)
Type
Creature (Hero Family)
Cost
30
HP
10
Attack
6
Hit%
100
Evasion%
0
Defense
0
Defense
0
Rarity
Attack
Other
characteristics
No.
028
Name
Seti (セティ)
Type
Creature (Hero Family)
Cost
25
HP
10
Attack
7
Hit%
95
Evasion%
60
Defense
0
Defense
0
Rarity
Attack
Other
characteristics
Counter
No.
029
Name
Horus (ホルス)
Type
Creature (Hero Family)
Cost
25
HP
15
Attack
5
Hit%
95
Evasion%
40
Defense
0
Defense
0
Rarity
Attack
Other
characteristics
Acts Twice
No.
030
Name
Clovis (クローヴィス)
Type
Creature (Hero Family)
Cost
30
HP
15
Attack
7
Hit%
95
Evasion%
0
Defense
0
Defense
0
Rarity
Attack
Other
characteristics
Dragon Buster (?)
No.
031
Name
Valkyrie (ワルキューレ)
Type
Creature (Hero Family)
Cost
30
HP
11
Attack
5
Hit%
100
Evasion%
0
Defense
1
Defense
1
Rarity
Attack
フレイアンスフィア
Other
characteristics
Can't Equip Weapons, Weak to Dark Attacks
No.
032
Name
Ogre (オーグル)
Type
Creature (Demi-human Family)
Cost
15
HP
10
Attack
4
Hit%
70
Evasion%
0
Defense
0
Defense
0
Rarity
Attack
(つきだす)
Attacks two squares ahead.
Other
characteristics
None
No.
033
Name
Fairy (フェアリー)
Type
Creature (Demi-human Family)
Cost
HP
Attack
Hit%
Evasion%
Defense
Defense
Rarity
Attack
Other
characteristics
Flight, Can't Equip Weapons
No.
034
Name
Goblin (ゴブリン)
Type
Creature (Demi-human Family)
Cost
10
HP
8
Attack
3
Hit%
95
Evasion%
0
Defense
0
Defense
0
Rarity
Attack
Pounce (とびかかる)
Attacks 1 square ahead. No attribute.
Other
characteristics
None
No.
035
Name
Mage Ghost (メイジゴースト)
Type
Creature (Undead Family)
Cost
20
HP
5
Attack
3
Hit%
100
Evasion%
0
Defense
0
Defense
0
Rarity
Attack
White Spell (ホワイトスペル)

Other
characteristics
No.
036
Name
Fire Ghost (ファイヤゴースト)
Type
Creature (Undead Family)
Cost
20
HP
5
Attack
1
Hit%
100
Evasion%
0
Defense
0
Defense
0
Rarity
Attack
Fire Spell (ファイヤスペル)

Other
characteristics
No.
037
Name
Will O' Wisp (ウィル・オー・ウィスプ)
Type
Creature (Undead Family)
Cost
20
HP
3
Attack
5
Hit%
100
Evasion%
0
Defense
99
Defense
99
Rarity
Attack
Mind Spark (マインドスパーク)

Other
characteristics
No.
038
Name
Skeleton (スケルトン)
Type
Creature (Undead Family)
Cost
20
HP
8
Attack
7
Hit%
95
Evasion%
0
Defense
0
Defense
0
Rarity
Attack
Slash (きりつける)

Other
characteristics
Regeneration, Weak to Flame Attacks
Weak to Light Attacks
No.
039
Name
Vampire (バンパイヤ)
Type
Creature (Undead Family)
Cost
15
HP
15
Attack
5
Hit%
75
Evasion%
0
Defense
0
Defense
0
Rarity
Attack
Other
characteristics
Regeneration, Weak to Flame Attacks
Weak to Light Attacks
No.
040
Name
Vampire Lord (バンパイヤロード)
Type
Creature (Undead Family)
Cost
35
HP
15
Attack
5
Hit%
95
Evasion%
0
Defense
0
Defense
0
Rarity
Attack
Blood Suck (きゅうけつ)

Other
characteristics
Flight, Regeneration
Weak to Flame Attacks, Weak to Light Attacks
No.
041
Name
Green Slime (グリーンスライム)
Type
Creature (Slime Family)
Cost
5
HP
5
Attack
5
Hit%
95
Evasion%
0
Defense
0
Defense
0
Rarity
Attack
Body Blow (たいあたり)
Attacks 1 square ahead. No attribute.
Other
characteristics
1/2 Action
No.
042
Name
Black Slime (ブラックスライム)
Type
Creature (Slime Family)
Cost
8
HP
5
Attack
3
Hit%
95
Evasion%
0
Defense
0
Defense
0
Rarity
Attack
Body Blow (たいあたり)
Attacks 1 square ahead. No attribute.
Other
characteristics
None
No.
043
Name
Mage Slime (メイジスライム)
Type
Creature (Slime Family)
Cost
10
HP
5
Attack
3
Hit%
100
Evasion%
0
Defense
0
Defense
0
Rarity
Attack
White Spell (ホワイトスペル)
Attacks with a spell that hits the target in the line ahead. No attribute.
Other
characteristics
1/2 Action, Can't Equip Weapons
No.
044
Name
Heal Slime (ヒールスライム)
Type
Creature (Slime Family)
Cost
10
HP
5
Attack
5
Hit%
100
Evasion%
0
Defense
0
Defense
0
Rarity
Attack
Heal Spell (ヒールスペル)
Heals injured allies 1 square ahead. Light attribute.
Other
characteristics
1/2 Action, Can't Equip Weapons
No.
045
Name
Roper (ローパー)
Type
Creature (Magical Creature Family)
Cost
15
HP
10
Attack
5
Hit%
100
Evasion%
0
Defense
0
Defense
0
Rarity
Attack
Life Drain (ライフドレイン)
Attacks 1 square ahead and drains enemy HP to recover itself. No attribute.
Other
characteristics
Can't Equip Weapons
No.
046
Name
Mud Element (マッドエレメント)
Type
Creature (Magical Creature Family)
Cost
20
HP
5
Attack
3
Hit%
95
Evasion%
0
Defense
0
Defense
0
Rarity
Attack
Mud Hand (マッドハンド)

Other
characteristics
Disappear
Can't Equip Weapons
Wall Destruction
No.
047
Name
Golem (ゴーレム)
Type
Creature (Magical Creature Family)
Cost
20
HP
20
Attack
20
Hit%
60
Evasion%
0
Defense
0
Defense
0
Rarity
Attack
(ぶんなぐる)

Other
characteristics
No.
048
Name
Fire Golem (ファイヤゴーレム)
Type
Creature (Magical Creature Family)
Cost
25
HP
20
Attack
20
Hit%
60
Evasion%
0
Defense
0
Defense
0
Rarity
Attack
Fire Punch (ファイヤパンチ)

Other
characteristics
No.
049
Name
Ice Golem (アイスゴーレム)
Type
Creature (Magical Creature Family)
Cost
25
HP
20
Attack
20
Hit%
60
Evasion%
0
Defense
0
Defense
0
Rarity
Attack
Ice Punch (アイスパンチ)

Other
characteristics
No.
050
Name
Big Rock (ビッグロック)
Type
Creature (Magical Creature Family)
Cost
25
HP
12
Attack
5
Hit%
95
Evasion%
0
Defense
0
Defense
0
Rarity
Attack
Body Blow (たいあたり)

Other
characteristics
Degeneration (Becomes Mini Rock when HP reaches 0.)
No.
051
Name
Mini Rock (ミニロック)
Type
Creature (Magical Creature Family)
Cost
15
HP
5
Attack
2
Hit%
95
Evasion%
0
Defense
0
Defense
0
Rarity
Attack
Dropkick (とびげり)

Other
characteristics
Acts Twice
Growth (Becomes Big Rock after 8 turns.)
No.
052
Name
Magic Card (マジックカード)
Type
Creature (Magical Creature Family)
Cost
15
HP
3
Attack
5
Hit%
95
Evasion%
0
Defense
0
Defense
3
Rarity
Attack
Bite (かみつき)

Other
characteristics
No.
053
Name
Oyaji (オヤジ)
Type
Creature (Magical Creature Family)
Cost
20
HP
5
Attack
10
Hit%
50
Evasion%
0
Defense
0
Defense
0
Rarity
Attack
Guncon Gun (ガンコンガン)

Other
characteristics
No.
054
Name
Fire Pot (ファイヤポット)
Type
Creature (Magical Creature Family)
Cost
15
HP
5
Attack
3
Hit%
95
Evasion%
0
Defense
0
Defense
0
Rarity
Attack
Fireball (ファイヤボール)

Other
characteristics
No.
055
Name
Trakon Puster (トラコンパスター)
Type
Creature (Magical Creature Family)
Cost
20
HP
8
Attack
8
Hit%
95
Evasion%
0
Defense
2
Defense
0
Rarity
Attack
Other
characteristics
No.
056
Name
Phoenix (フェニックス)
Type
Creature (Magical Creature Family)
Cost
25
HP
6
Attack
6
Hit%
95
Evasion%
0
Defense
0
Defense
0
Rarity
Attack
Firebird (ファイヤバード)

Other
characteristics
てんせい (If defeated, has 90% chance to revive after 12 turns)
Weak to Ice Attacks
No.
057
Name
Kagekiyo (カゲキヨ)
Type
Creature (Magical Creature Family)
Cost
25
HP
11
Attack
8
Hit%
80
Evasion%
0
Defense
2
Defense
0
Rarity
Attack
Kusanagi no Tsurugi (クサナギのつるぎ)
Attacks 1 square ahead. Light and Exorcism attributes.
Other
characteristics
てんせい (If defeated, has 90% chance to revive after 12 turns)
Weak to Dark Attacks
No.
058
Name
Pac-Man (パックマン)
Type
Creature (Magical Creature Family)
Cost
15
HP
1
Attack
30
Hit%
60
Evasion%
0
Defense
0
Defense
0
Rarity
Attack
Pac Attack (パックアタック)

Other
characteristics
Can't Equip Weapons
No.
059
Name
Dragonfly (ドラゴンフライ)
Type
Creature (Animal Family)
Cost
20
HP
6
Attack
3
Hit%
95
Evasion%
0
Defense
0
Defense
0
Rarity
Attack
Fireball (ファイヤボール)

Other
characteristics
Flight
Can't Equip Weapons
No.
060
Name
Bat (バット)
Type
Creature (Animal Family)
Cost
10
HP
5
Attack
3
Hit%
95
Evasion%
0
Defense
0
Defense
0
Rarity
Attack
Body Blow (たいあたり)

Other
characteristics
Flight
No.
061
Name
Snake (スネーク)
Type
Creature (Animal Family)
Cost
15
HP
9
Attack
2
Hit%
95
Evasion%
0
Defense
0
Defense
0
Rarity
Attack
Poison Fang (どくのキバ)
Attacks 1 square ahead. Ground and Poison attributes.
Other
characteristics
None
No.
062
Name
Double Head (ダブルヘッド)
Type
Creature (Animal Family)
Cost
25
HP
10
Attack
3
Hit%
95
Evasion%
0
Defense
0
Defense
0
Rarity
Attack
Poison Fang (どくのキバ)
Attacks 1 square ahead. Ground and Poison attributes.
Other
characteristics
Acts Twice
No.
063
Name
Axe Beak (アックスビーク)
Type
Creature (Animal Family)
Cost
25
HP
12
Attack
4
Hit%
95
Evasion%
0
Defense
0
Defense
0
Rarity
Attack
Beak (クチバシ)
Attacks 1 square ahead. No attribute.
Other
characteristics
Acts Twice
No.
064
Name
Giant Leech (ジャイアントリーチ)
Type
Creature (Animal Family)
Cost
15
HP
8
Attack
5
Hit%
95
Evasion%
0
Defense
0
Defense
0
Rarity
Attack
のしかかる
Other
characteristics
Disappear
No.
065
Name
Giant Toad (ジャイアントトード)
Type
Creature (Animal Family)
Cost
15
HP
8
Attack
1
Hit%
60
Evasion%
0
Defense
0
Defense
0
Rarity
Attack
Poison Body Blow (どくたいあたり)

Other
characteristics
Counter
No.
066
Name
Eagle (イーグル)
Type
Creature (Animal Family)
Cost
20
HP
10
Attack
5
Hit%
95
Evasion%
0
Defense
0
Defense
0
Rarity
Attack
Other
characteristics
Flight
No.
067
Name
Bo (ボー)
Type
Creature (Animal Family)
Cost
25
HP
4
Attack
10
Hit%
20
Evasion%
40
Defense
0
Defense
0
Rarity
Attack
Rescue Shot (レスキューショット)
Other
characteristics
No.
068
Name
Quox (クオックス)
Type
Creature (Dragon Family)
Cost
30
HP
20
Attack
5
Hit%
95
Evasion%
0
Defense
0
Defense
0
Rarity
Attack
Fire Breath (ファイヤブレス)

Other
characteristics
Can't Equip Weapons
No.
069
Name
Black Dragon (ブラックドラゴン)
Type
Creature (Dragon Family)
Cost
35
HP
20
Attack
5
Hit%
95
Evasion%
0
Defense
0
Defense
0
Rarity
Attack
Dark Breath (ダークブレス)

Other
characteristics
Can't Equip Weapons
Weak to Light Attacks
No.
070
Name
Silver Dragon (シルバードラゴン)
Type
Creature (Dragon Family)
Cost
35
HP
20
Attack
5
Hit%
95
Evasion%
0
Defense
0
Defense
0
Rarity
Attack
Flare Breath (フレアブレス)

Other
characteristics
Can't Equip Weapons
Weak to Dark Attacks
No.
071
Name
Salamander (サラマンダー)
Type
Creature (Dragon Family)
Cost
40
HP
15
Attack
3
Hit%
95
Evasion%
0
Defense
0
Defense
0
Rarity
Attack
Napalm Breath (ナパームブレス)

Other
characteristics
Can't Equip Weapons
Weak to Ice Attacks
No.
072
Name
Wyvern (ワイバーン)
Type
Creature (Dragon Family)
Cost
35
HP
15
Attack
5
Hit%
95
Evasion%
0
Defense
0
Defense
0
Rarity
Attack
Fire Breath (ファイヤブレス)

Other
characteristics
Flight
Can't Equip Weapons
No.
073
Name
Basilisk (バジリスク)
Type
Creature (Dragon Family)
Cost
35
HP
12
Attack
2
Hit%
100
Evasion%
0
Defense
0
Defense
0
Rarity
Attack
PetroFlash (ペトロフラッシュ)

Other
characteristics
1/2 Action
Can't Equip Weapons
No.
074
Name
"Dahakku" (ダハック)
Type
Creature (Dragon Family)
Cost
45
HP
25
Attack
7
Hit%
95
Evasion%
0
Defense
0
Defense
0
Rarity
Attack
Triple Napalm (トリプルナパーム)
Uses Napalm Breath in three directions, leaving Fire Elements in the lines between Dahakku and the targets or obstacles. Flame attribute.
Other
characteristics
Can't Equip Weapons
Weak to Ice Attacks
No.
075
Name
Druaga (ドルアーガ)
Type
Creature (Demon Family)
Cost
50
HP
30
Attack
10
Hit%
60
Evasion%
0
Defense
2
Defense
7
Rarity
Attack
Demonic Rush (デモニックラッシュ)

Other
characteristics
Massacre (Attacks allies and enemies)
Acts Twice, Weak to Light Attacks
No.
076
Name
Anshar (アンシャー)
Type
Creature (Demon Family)
Cost
45
HP
15
Attack
5
Hit%
100
Evasion%
0
Defense
0
Defense
7
Rarity
Attack
Dark Hole (ダークホール)

Other
characteristics
Massacre (Attacks allies and enemies)
Flight, Can't Equip Weapons
Weak to Light Attacks
No.
077
Name
Great Demon (グレートデーモン)
Type
Creature (Demon Family)
Cost
30
HP
18
Attack
8
Hit%
95
Evasion%
0
Defense
0
Defense
5
Rarity
Attack
Demonic Force (デモニックフォース)

Other
characteristics
Flight
Weak to Light Attacks
No.
078
Name
Succubus (サキュバス)
Type
Creature (Demon Family)
Cost
25
HP
12
Attack
5
Hit%
70
Evasion%
0
Defense
0
Defense
0
Rarity
Attack
Temptation (テンプテーション)
Attacks 1 square ahead. Dark and Confusion attributes.
Other
characteristics
Flight, Can't Equip Weapons
Weak to Light Attacks
Transformation (Transforms into other creature to fool enemies.)
No.
079
Name
Evil Eye (イビルアイ)
Type
Creature (Demon Family)
Cost
20
HP
8
Attack
2
Hit%
70
Evasion%
0
Defense
0
Defense
0
Rarity
Attack
PetroGlare (ペトログレア)

Other
characteristics
Flight, Can't Equip Weapons
Weak to Light Attacks
No.
080
Name
Nightmare (ナイトメア)
Type
Creature (Demon Family)
Cost
40
HP
20
Attack
10
Hit%
95
Evasion%
0
Defense
4
Defense
1
Rarity
Attack
(ぶったぎる)

Other
characteristics
Massacre (Attacks allies and enemies)
Weak to Light Attacks